25. Castella: Zenkashoin (Shibuya)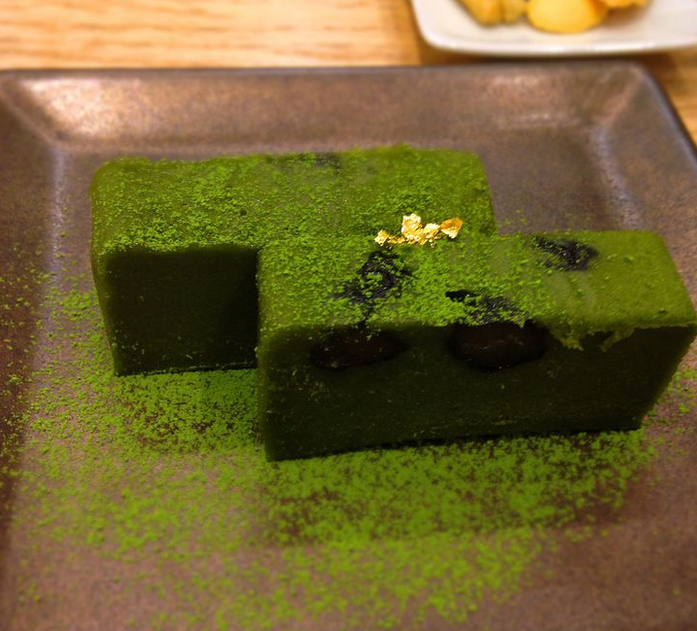 No doubt, castella sponge cake was originally imported from Europe and has become a typical Japanese sweet in Japan. Visit "Zenkashoin" in Shibuya, which is a popular sweets shop from Kyoto. From there, you can effortlessly enjoy the famous matcha castella, plus the shop's special matcha ice cream. Don't miss the chance to savor the double delicacies.
Details:
Name: Zenkashoin Shibuya Hikarie ShinQs-ten
Address: Shibuya Hikarie ShinQs B2/F, Shibuya 2-21-1, Shibuya-ku, Tokyo
Tel: 036434818
Opening hours: 10:00 – 21:00
Open every day
Price: 950 yen (Kaori matcha maru); 1450 yen (Kaori matcha maru, served with coffee, English tea or green tea); 1300 yen (Matcha no Terinu, served with green tea)
26. Bavarois: Kinozen (Kagurazaka)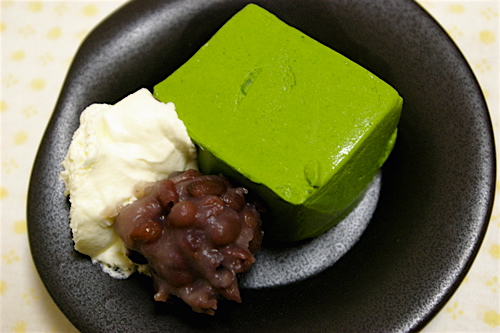 Besides ice cream, pancakes, jelly and kakigoori, bavarois is also one of the signature matcha sweets in Tokyo. The shop "Kinozen" in Shinjyuku has excellent matcha bavarois which is presented in a square cube and tastes so soft and creamy. It comes with bean jam which is matcha sweet's best companion.
Details:
Name: Kinozen
Address: Kagurazaka 1-12, Shinjuku-ku, Tokyo
Tel: 0332692920
Opening hours: 11:00 – 20:00 (last order 19:30); Sundays & public holidays 12:00 – 18:00 (last order 17:00)
Closed on Mondays (except for public holiday on Monday, in which case the shop will be open on the holiday and closed on Tuesday)
Website: http://www.kinozen.co.jp/index.htm
Price: 874 yen (Matcha bavarois)
27. Kakigoori: Yelo (Roppongi)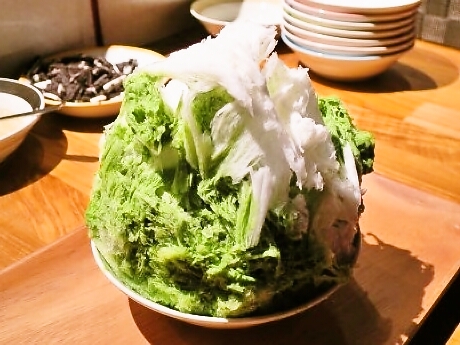 Nothing can beat a kakigoori (sweet shaved ice) to cool off in a hot sum-mer. The locally hit shop "Yelo" would be a right choice for you. Not only is it creamy and sweet, but also is full of rich matcha flavor, thanks to its high-quality ingredient from a famous tea house called "Toshouen-chaho" from Kyoto. You would absolutely not be disappointed!
Details:
Name: Kakigori Cafe & Bar Yelo
Address: Patio Roppongi 1/F, Roppongi 5-2-11, Minato-ku, Tokyo
Tel: 0334232121
Opening hours: 11:00 until the next morning; (Sundays)11:00 – 23:00
Open every day
Website: http://yelo.jp/
Price: 850 yen (Matcha kakigoori)
28. Kakigoori: Shimokita Chaenooyama (Shimokitazawa)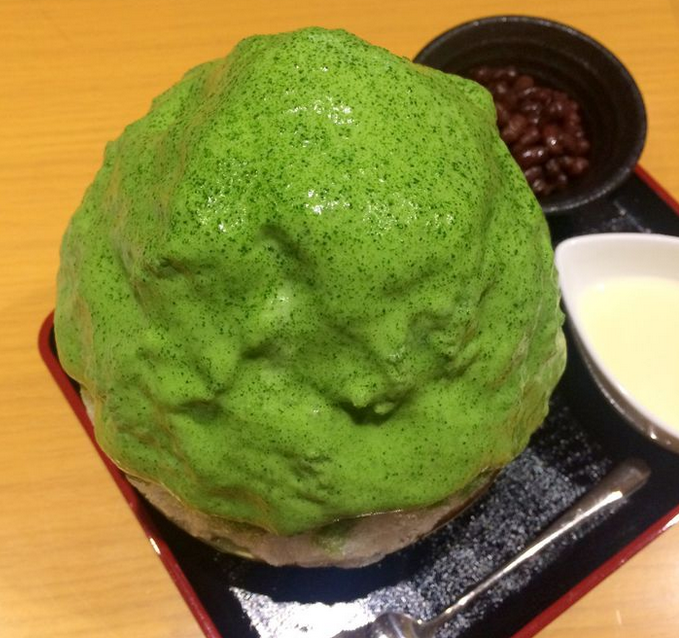 You might have seen numerous kinds of kakigoori in Japan. However, the kakigoori from Shimokita Chaenooyama would definitely give you a sur-prise! It is topped by a bunch of sweet and rich matcha mousse.
Every bite is a luxury enjoyment.
Details:
Name: Shimokita Chaenooyama
Address: Maruwa center 2/F, Kitazawa 2-30-2, Setagaya-ku, Tokyo
Tel: 0334665588
Opening hours: 14:00 – 18:00
Closed on Mondays, as well as some periods during April, May, October & December
Website: http://shimokita-chaen.com/
Price: 1130 yen (Bitou matcha kakigoori)
29. Tiramisu: Marunouchi Cafe-kai (Marunouchi)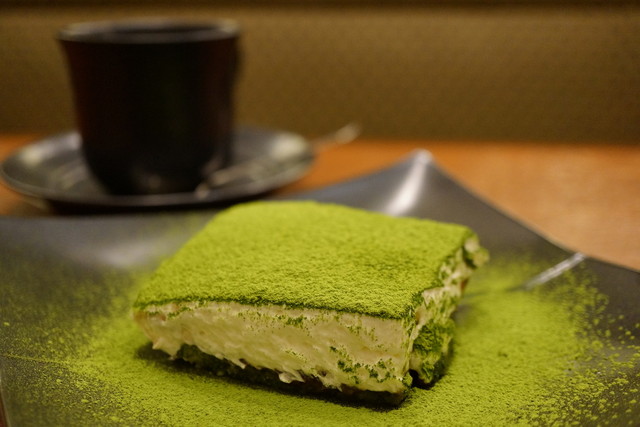 Tiramisu is such a world-famous dessert. But don't you want to try the local specialty of tiramisu in Tokyo? The slightly bitter flavor of matcha just goes well with creamy mascarpone. Indeed, you hardly find the matcha tiramisu without visiting Japan.
Details:
Name: Marunouchi Cafe-kai
Address: Kitte 1/F, Marunouchi 2-7-2, Chiyoda-ku, Tokyo
Tel: 0332172022
Opening hours: 7:00 – 23:00
Irregular day off (depends on Kitte's closing days)
Price: 620 yen (Uji matcha tiramisu)
Aren't you impressed by the matcha confectionery which is presented in so many variations as introduced above? It is always said that the best place to have matcha sweets is Kyoto. Tokyo, however, is also an ideal city for you to explore its luscious and signature matcha desserts. Do remember all these recommendations and visit some of them on your next trip to Tokyo. Have fun and good luck!